Foster Wish Lists
Jack
Jack had both of his eyes removed. He is now back in his foster home getting used to being blind.
Jack's Wish List contains items that help keep him occupied. Before the surgery, jack wouldn't play with chew toys. Now that he is out of the pain, he LOVES chew toys. Jack says that even though he can't see you, that he says thank you very much and that he loves you all!!
---
Buddy Sue
Buddy Sue is a young boy who has been with Midwest for a while now. Buddy appears to have been born with a neurologic issue so he can not control his bowels or bladder. Buddy wears diapers while in the house but he says he still is as handsome as ever with his dapper diaper suspenders. Buddy loves everyone including kids and other dogs. His foster mom says he is quite the ambassador for those with disabilities and she thinks he would make a great therapy dog! Buddy is a quick learner, smart, sweet and well mannered.
If you would like to help Buddy with some of his "special" things, you can visit his Amazon wish list. Buddy says Thanks so much!!
---
Baby Leah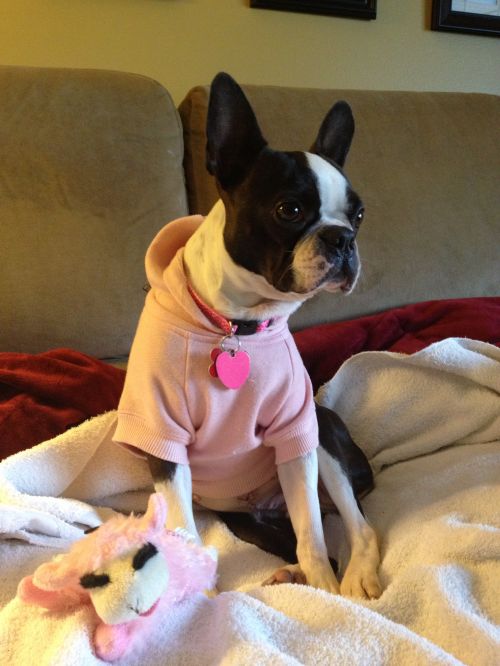 Meet Baby Leah. Leah is a very special little Boston with very special needs. She was found living under a house in Missouri and her rescuers noticed there was something wrong with her hind legs and she appeared to have no control over her bowel or bladder. They contacted Midwest for help. After a series of x-rays, it was found that Leah has recently broken her lower back (her L7 vertebrae is fractured). The vet thinks she was either hit by a car or fell from a tall object. Either way, it has already started to heal and fuse, so she is not a candidate for surgery. This accident has left Leah with wobbly back legs and currently no bowel/bladder control. She can walk and run, she just looks like a drunk little sailor. The vet also says Leah has a Luxating Patella on the left which may need to be addressed as she gets older. For all these reasons, Leah should not be allowed to go up or down stairs so her foster mom has placed a baby gate at the bottom of the stairs. Leah currenlty has to wear diapers while in the house. Although she appears to be housebroken and asks to go outside and does squat to do her business, nothing happens. She currently needs her bladder manually emptied 3-4 times a day, which after a little practice only takes a minute to do. She has no control over her bowels either and will frequently soil her diaper. Leah is super sweet. She adores everyone she meets and follows her foster family around everywhere. She does get playful, but because of her injury and the fact she was just spayed this week and had her prolapsed rectum fixed, we are trying to keep her quiet. Leah seems to get along with other small dogs (we've been told she does not like large dogs). She mostly has ignored them this week, but today she was found trying to get a few of her foster siblings to play. The problem is her younger foster siblings play a little rough and her foster mom has had to keep a close eye that Leah doesn't get knocked over or hurt. For that reason, she would probobaly be best as either an only dog or with older dogs who don't play so rough. Her foster home will re-evaluate this after Leah heals and her stitches are removed. Leah would also be best in a home without small children for the same reason. Leah is the most amazingly sweet baby her foster mom has ever seen. Even right after her surgery when expressing her bladder was so painful for Leah, she would cry and lick her foster parents faces at the same time. She adores her foster dad and just wants to hang out on the couch with whoever will sit with her. She is very good about getting her diaper changed. She is crate trained and rides good in the car. Leah is a very special little doll whose foster mother is already extremely fond and protective of her. Leah is waiting for that perfect forever family to love and cuddle her who is willing to look past her disability and won't mind having to carry a diaper bag on doggy outings. Her forever family must be commited to learning to express her bladder to prevent recurrant bladder infections. Leah would also like a family where she is not left home alone for long periods. If you are that special family and have room in your hearts for this very special little girl, Leah would love to hear from you! Leah would love to have some sponsers to help her through her rehabilitation. If you would like to donate to her care, she would be very grateful!
---
Nan
Nan is a senior dog in our cares. She has a skin condition but it's getting cleared up with an antibiotic. The foster home leaves pee pads down for her. Nan would love more pee pads and what senior dog doesn't love a nice warm blanket to sleep under to stay warm with the cold weather coming up. Thanks everyone!!